Quick and Easy Buying Guide
Carat weight: 1 carat = 200 milligrams = 6.5 mm diameter. Doubling weight doesn't double diameter.
Diamond clarity: FL/IF/VVS/VS = super expensive, near perfect. SI = best value if you can check a photo for obvious inclusions (defects).
Color: D-G = colorless, expensive, only if you have money to burn. H-J = best value. Can go lower in gold metal settings than white metal.
Cut: Better cut ratings let more light into a diamond, making it sparkle more. Very important property, don't skimp here.
Diamond Certification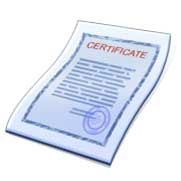 Before you take the plunge and buy a diamond, you should have a look at the diamond certification report or diamond grading report. This is a report provided by one of a number of institutes around the world that tells you the 'official' grading of the various characteristics of the diamond. Some retailers and online sellers will provide the report with the diamond when you buy it, and will also allow you to preview the report before you purchase online. Some of the more well known institutes are:
Sponsored Links
Gemological Institute of America (GIA)
The GIA is a non-profit institute that performs diamond grading amongst many other things. You'll find a lot of GIA reports with sites such as Blue Nile.
American Gem Society (AGS)
Unlike the GIA, the AGS is a trade association that includes many of the retailers and suppliers in the business.
International Gemological Institute
A more than 30 year old European centered organization with offices all around the world, and one of the largest certification labs in the world.
Hoge Raad voor Diamant
This is the European version of the Gemological Institute of America and is translated as "Diamond High Council". It's recognized by the European Union.
International School of Gemology (ISG)
Of note is their efforts to expose dishonest practices in the diamond and gem industry.
What Do You Get in a Diamond Certificate?
In general, you'll get a unique report numberr, and a large number of measurements such as carat weight, symmetry, polish, height and depth, fluorescence and many other details such as described on this site.
Diamonds at James Allen are fully certified - check them out by clicking on the banner below: