Quick and Easy Buying Guide
Carat weight: 1 carat = 200 milligrams = 6.5 mm diameter. Doubling weight doesn't double diameter.
Diamond clarity: FL/IF/VVS/VS = super expensive, near perfect. SI = best value if you can check a photo for obvious inclusions (defects).
Color: D-G = colorless, expensive, only if you have money to burn. H-J = best value. Can go lower in gold metal settings than white metal.
Cut: Better cut ratings let more light into a diamond, making it sparkle more. Very important property, don't skimp here.
Important Notice
As of January 2012, this discount code has been discontinued.

James Allen and Engagement Ring Guru have partnered to provide a unique 10% discount off any ring setting purchased at James Allen (whether you buy a diamond with it or not).
So shop around, definitely have a look at James Allen's diamonds and ring settings, and if you decide to go with a James Allen ring, type in the code "ringgu10" when you get to checkout. You'll get a 10% discount on the ring setting! The picture below shows where you enter the discount code:
Sponsored Links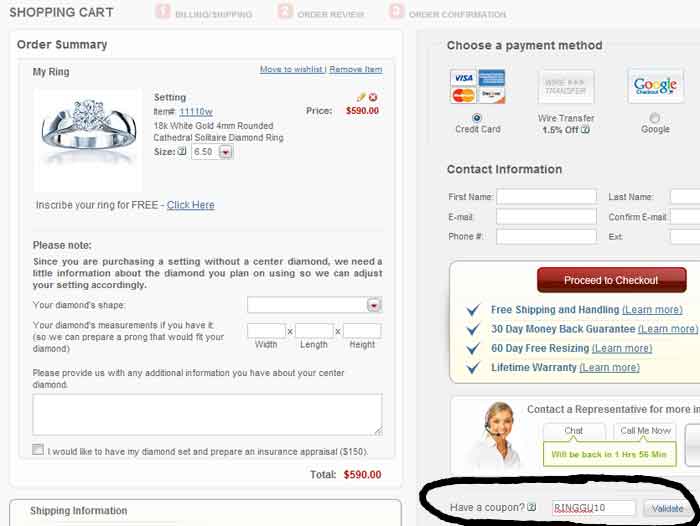 A 10% saving on the ring setting means more money to get a better diamond, or more money in your pocket to spend on whatever you want, such as the wedding itself.
For example, if you want to buy an 18k White Gold Channel Set Round Brilliant Diamond Engagement Ring for $1,100, you'd enter the code "ringgu10" on checkout and get $110 off, bring the price down below a grand to $990. Which is definitely worth your time in typing in a few characters into the coupon entry box!